Shahab Mehmood

Shahab Mehmood has done his M.Phil from Dr. Panjwani center for molecular medicine and drug research. He joined szabist's stem cell research center (SCRC) as Junior research associate. Mr. shahab worked on 'Exploring neuro-regenerative and natural or synthetic compound for the treatment of Parkinson's disease" and "'Setting up a high resolution microscopy system for testing different natural compounds in the treatment of different diseases such as Parkinson's Alzheimer's and immunological disease or cancer'- HEC, Funded" projects. His expertise includes tissue preparation for microscopy and various type of microscopy which include bright field microscopy, DIC(differential interference contrast), TIRF (total internal reflection) and fluorescence microscopy techniques involving immunocytochemistry, immunohistochemisty and normal histology techniques e.g. H/E staining Masson's trichrome staining etc. He also has experience for developing in-vivo degenerative disease models for scanning of neuro-protective or hepato-protective or regenerative agents for their regenerative and protective potential. Here are few photographic example of his microscopy work.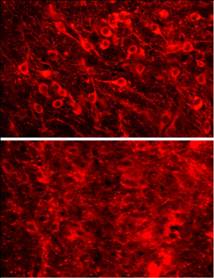 Immunostaining of dopaminergic neurons in mice brain before and after injection of a specific neurotoxin to the mice
(Image:A) Control Mice Brain
(Image:B) Shows Neurotoxin Treated Brain.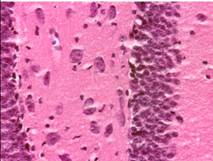 Normal bright field H/E staining of Hippocampus of mice brain (6micrometer thick)

His recent goal at SCRC, SZABIST to develop a animal stem cell culture laboratory under the supervision of Dr. Bushra Noman, head of SCRC, culture stem cell from brain (Neuroprogenitor) and bone marrow (totipotent) and differentiate them into various different type of cell and inject them into the degenerated tissue or organ to replace the damaged tissue. As stem cells can be isolated from different tissues and they have ability to renew them into diverse range of specialized cell types.
Under specialized conditions stem cell can be grown and transformed into specialized cell with the help of tissue cultures. Therefore they have been proposed as promising candidates for future therapies for untreatable disease e.g. Hepatitis C, Alzheimer's disease and myocardial infarction.