Project (SZABIST Diagnostic Centre)

SZABIST DIAGNOSTIC CENTRE

Stem cell research center (SCRC) has a well established diagnostic laboratory for the testing of blood samples. The aim of this facility is to provide blood testing service to the people living in remote areas. SCRC has also started mobile diagnostic laboratory service and have scheduled the visits to villages which lack diagnostic facilities and are situated in the poor and deprived areas of Pakistan.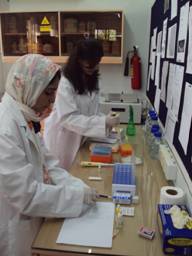 SZABIST diagnostic laboratory is conducting all diagnostic tests free of cost.

Currently SZABIST diagnostic laboratory is screening blood for following diseases
1. Hepatitis B
2. Hepatitis C
3. HIV
4. Thalassemia
In the most recent activity SZABIST diagnostic laboratory members visited Jaffer Jukhio Goth which is near Gharo city and conducted HIV, Hepatitis B, Hepatitis C, Thalassemia tests and blood group (ABO) typing and studied the prevalence of these diseases.