Ms. Asma Bashir did her Bachelor's in the field of Microbiology and later she did her Master's in a discipline of Basic and Molecular Microbiology & Virology from Department of Microbiology, University of Karachi. She served a couple of years as a Research Scholar in a very reputed and well equipped laboratory; Immunology and Infectious Disease Research Laboratory (IIDRL), Department of Microbiology, University of Karachi, where she got a chance to carry out a number of projects in the area of Immunology and Diagnostics of infectious diseases. She presented her piece of research work at various National and International forums in Pakistan, USA, UK and Dubai. Apart from microbiological aspects, one of her specialty is the development of Biosafety concepts in Microbiology, pathology & research laboratory and for this she got a special training in Biosafety and Biosecurity from Bangkok, Thailand.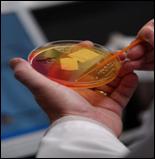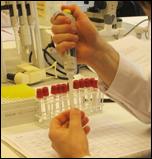 Microbial Analysis
www.google.com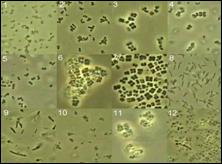 Bacterial cell colonies on blood agar plates. Images were taken with phase-contrast optics, at standard x1000 magnification.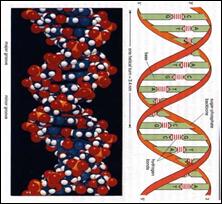 http://www.biology.ed.ac.uk/research/groups/
jdeacon/microbes/shapimag.htm
Helix Structure of DNA.
www.healthandenergy.com/radon.htm
Asma Bashir has recently been appointed as a Senior Research Officer (SRO) at Stem Cell Research Center (SCRC), SZABIST where she will have an assignment to develop a complete spectrum of diagnostic procedures needed for running a successful Stem Cell Research Center with her special emphasis to carry out the screening of blood samples against infectious diseases to mark the samples as safe like HIV, Hepatitis, Syphilis, Malarial parasite etc. Her big challenge will be establishing a Cryo Stem Cell Bank that will again an added advantage to SCRC.